About the Fonts
Body text is rendered in Verdana, set to a 12 pixel square with leading of 24 pixels.
Headings are rendered in Georgia, set to an 18 pixel square with leading of 36 pixels.
Our logo is rendered in Cochin, a beautiful typeface developed by Frenchman George Peignot in the nineteenth century. Ported to Windows using
FontForge
.
The Company
David Lerin was formed in 2007 by two individuals who believe that web sites can be beautiful, elegant, and easy to manage. We started out in Eden Prairie, Minnesota, but have since taken our operation on the road: we now provide international development from our home in Gunsan, Korea. Wherever you are located, we would love to chat with you (Skype works well) and brainstorm ways we can help you thrive online.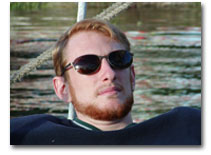 Jordan David
A 2007 graduate of Bethel University with a B.A. in Physics, Jordan has been implementing web technologies for over ten years. He has an intense interest in programming, and has experience with XHTML, CSS, PHP, Javascript, Java, MATLab, and any web tools worth mentioning. He is also an aspiring photographer. On the side, Jordan designs and develops indie games with artists from around the world. In 2005 he founded
tigsource.com
, now the fastest growing portal on the internet dedicated to independent games and interactive artworks (featured in
Newsweek
and
Wired
). Jordan likes to take long walks on the beach and discuss the synthesis of art and technology.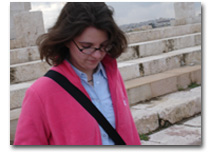 Marisa Lerin
A 2006 graduate of Bethel University, also with a degree in Physics, Marisa is a talented writer and artist. Her experience with photographic technique, as well as her extensive background in mixed media artwork, lend Marisa's web design work unique flare. Borrowing on techniques used in scrapbooking, collaging, and needlework art, Marisa loves to weave her web pages into organic tapestries of color and light. While her heart is given to literature and visual art, Marisa enjoys surprising people with her programming abilities, and technical prowess. Marisa likes crafting, playing boardgames, shopping for purses, dancing, and being fancy.